BUCHANAN FOR CONGRESS
PEACE BALANCE FREEDOM
AND NO BAILOUTS!
Martin L. Buchanan is the Libertarian candidate for Congress in Colorado's First Congressional District. He is an Army and Army National Guard veteran, a writer, and a political activist. He is campaigning on a platform of Peace, Balance, and Freedom. He opposes all of the Republican and Democratic bailouts of Wall Street.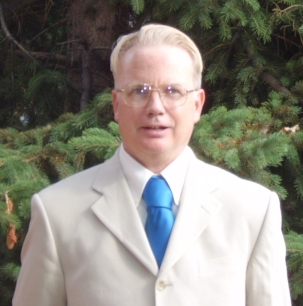 In 2006, increasingly concerned that Republicans and Democrats are bankrupting our federal government, he began writing a book, published in 2007, To Save America: How to Prevent Our Coming Federal Bankruptcy. Written for a general audience, it describes how the major parties have put our nation more than fifty trillion dollars in debt, and how to reduce the size of the federal government by 40% through a specific series of cuts and reforms.
Peace. We should immediately end our costly and unnecessary war in Iraq. We should not intervene in the internal affairs of other nations. We should limit our military alliances to those that are in our national interest and add to our national safety, without entangling us in civil wars or local conflicts in other parts of the world. We should cut military spending in half, spending what we need to defend a republic, rather than what is needed to maintain an empire. Finally, we should live up to our obligations under the Nuclear Non-Proliferation Treaty and negotiate with other nations towards complete and general nuclear disarmament.
Balance. The George W. Bush administration has combined runaway spending with phony tax cuts, phony because all of the Bush tax cuts have been funded with borrowed money, often borrowed from other countries. Federal liabilities have increased from $20 trillion in 2000 to $54 trillion today, $700,000 in federal obligations for each U.S. family. Even if you pay off your house, your car, your credit cards, and your other debts, your family will still be deep in debt because of the actions of your own government. The U.S. Government Accountability Office (GAO) estimates the "fiscal gap" in the federal budget as about one trillion dollars per year. This means that we must cut federal spending or raise federal taxes by about one trillion dollars a year, or more than $13,000 per year per family, to keep our government from going broke. In his book, Martin proposes more than one trillion dollars a year in federal spending cuts and also describes how to make fiscal discipline and balanced budgets permanent. See a summary of these proposed cuts below.
Freedom. Freedom, limited government, and inalienable individual rights are our founding principles. It took nearly two more centuries to overcome the great evils and great contradictions of slavery and segregation in a nation supposedly devoted to liberty. In the last seven years, the Bush administration, often aided by Democrats in Congress, has repeatedly ignored and violated our Bill of Rights and our personal freedoms. Martin supports the entire Bill of Rights and will work to end all of the unconstitutional practices of the Bush administration and the current Congress; to end general surveillance of our mail, emails, and phone calls; to end any U.S. involvement in torture and illegal detention; to restore free speech rights, including political speech; and to support our right to keep and bear arms.
No Bailouts! A real free market is a fundamental aspect of American liberty. Today's corporate bailouts that shift trillions of dollars in costs to taxpayers are the opposite policy. Libertarians opposed the Bear-Stearns bailout, opposed the Fannie and Freddie bailout, oppose the AIG bailout, and oppose the recent bailout that puts up 700 billion dollars in a "cash for trash" swap, dumping the nation's bad mortgages onto our backs. Those who participate in markets need to learn the hard lessons that free markets include real risks, that if you make bad investments you will lose your investments, that counterparty and derivative risks are very real, and that if you fail the taxpayers will not bail you out. It is better to accept the short-term pain that comes with facing financial reality, rather than to permanently corrupt and debase a once free economy.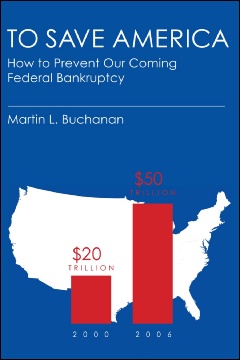 CAMPAIGN EVENTS AND PUBLICATIONS
11/01/2007 To Save America: How to Prevent Our Coming Federal Bankruptcy is now available for free online reading at WOWIO.COM.
03/26/2008 Martin returns his $600 federal rebate to the federal Treasury and sets up GiveBackTheRebate.org to explain why these rebates are a bad idea.
08/05/2008 At our campaign kickoff, Martin lays out a specific plan to cut federal spending by more than one trillion dollars each year.
08/10/2008 Martin and 75 other supporters of Bob Barr, Libertarian for President, met with Bob. Together we raised more than $9,000.
08/16/2008 Supporters distributed 500 copies of Martin's letter supporting gun rights at the Crossroads of the West Gun Show.
10/01/2008 Martin's Candidate Introduction Video (from Public Access Channel 8, two minutes long,
even with broadband you may just get good sound but not a very good picture)
10/21/2008 Martin debates his two opponents. Supporters distribute 250 campaign flyers at Johnson & Wales University.
11/04/2008 Election Day. Please vote Libertarian!
You can reach us at MartinLBuchanan@gmail.com or via postal mail at:
Buchanan for Congress, 545 Broadway #31, Denver, CO 80203
To make a donation, just mail a check to Buchanan for Congress. Include a note with your full name, address, occupation, employer, and a way to contact you (phone or email). We need all of this information to comply with federal campaign finance laws.
To contribute to a federal campaign, you should be a U.S. citizen or legal resident, age 18 or over, contribute with personal (not business or organizational) funds, and not contribute more than $2,300 to one campaign.
The following table summarizes Martin's plan to save one trillion dollars each year in taxpayer money. The dollar amounts listed are based on actual federal spending in fiscal year 2006. Spending on most programs has increased so we will save more than these amounts. We can make these cuts and still have enough spending on defense, the elderly, the poor, and essential government programs. If we make all these cuts and maintain them, we can pay down the national debt held by the public, additional long-term savings with a present value of $140 billion each year.
| Proposal | Immediate Savings | Present Value of Long-Term Savings |
| --- | --- | --- |
| Cut the remaining defense budget by 50%. | $202.9 billion | |
| Raise the Social Security retirement age. | | $147.2 billion |
| Make Medicare a high-deductible health plan. | $53.8 billion | $76.3 billion |
| Stop the Iraq war immediately. | $97.5 billion | |
| End many grants to state and local governments. | $93.4 billion | |
| Make Medicaid a block grant. | | $85.9 billion |
| End most federal education funding. | $47.8 billion | |
| End farm programs. | $34.8 billion | |
| End federal funding for biomedical research. | $28.2 billion | |
| End earmarked spending. | $24.0 billion | |
| Stop subsidizing debt. | $24.0 billion | |
| End foreign aid. | $22.3 billion | |
| End long-term disaster relief and insurance. | $22.3 billion | |
| End the Afghanistan war. | $18.6 billion | |
| Sell NASA. | $15.1 billion | |
| Stop subsidizing medical education. | $9.4 billion | |
| End corporate welfare. | $9.0 billion | |
| End federal funding for the National Science Foundation. | $5.5 billion | |
| Sell Amtrak. | $1.0 billion | |
| Leave art and media to the free market. | $0.6 billion | |
| Totals | $710.2 billion | $309.4 billion |
Paid for by Buchanan for Congress, Steve Cornell, Treasurer